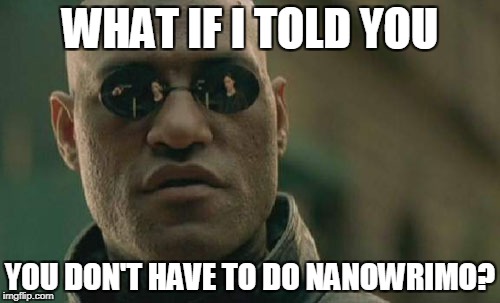 Today is the last Monday before November 1st, a day known for the past 18 years as the beginning of National Novel Writing Month. As November creeps up, writers start considering whether they'll participate in the grueling one-month effort to write 50,000 words in pursuit of a novel draft, at a rate of 1,666 words each day. It's like a one-month celebration of writing in which the measure of fun is in how much agony you're experiencing.
I read an article from Chris Brecheen early this year that examined the detrimental effects NaNoWriMo can and often does have on writers. He maintained that trying to write 50,000 words in a month without doing regular writing throughout the rest of the year is like attempting to run the Boston Marathon after going for a few morning jogs. Such an ambitious but ill-advised undertaking only results in hamstrung legs and dreams.
The one time I completed NaNo left me feeling sick of words and incapable of writing for a long, long time afterward. I haven't participated in it whole-heartedly ever since. Yet every year, I find myself getting caught up in that fever-pitch of anticipation as those around me gear up for another stab at that 50,000 words. As NaNo looms, I hear other writers (and myself) giving common reasons for why they might just roll up their sleeves and dive in again.
I'm skipping NaNoWriMo this year. Those aforementioned arguments often stem from guilt and misguidance, so I want to address some of them and present other, less detrimental, solutions.
#1 "It's been so long since I've written and NaNoWriMo will get me back into it."
Getting back into writing doesn't have to wait until November. Also, it doesn't have to take the form of writing an ocean of words every day. It's as simple as picking up a pen and writing one sentence. Then doing that again the next day. And the next. The more writing you do, the easier it becomes and the more you'll write.
Neil Gaiman was posed a question with this sentiment almost word for word on Tumblr. He gave an excellent response, saying that to get back into writing, putting down just 300 words a day will net you a 90,000 word novel in a year. That's almost twice as much as NaNo, using a method that won't destroy you.
#2 "Writing is so lonely, but NaNoWriMo gives me a sense of community with other writers."
The advent of those new-fangled internets has connected writers all over the world. There are loads of websites, social media tags, critique groups, and match-ups available out there. With just a quick Google search, I found:
Critique Partner Love Connection – a forum set up to connect potential critique partners
Inked Voices – what looks like a GoogleDocs-esque group collaboration
Writers Online – a database for seeking online writing groups
Writer's Relief – featuring a list of writing groups by state or region
Most of these were just on the first page of results. Give some of these a try and get yourself some writing pals.
#3 "I just can't seem to write without NaNoWriMo word count goals and deadlines to motivate me!"
I can see how "just write your goals down!" may not be concrete enough an answer to this dilemma. There's something delicious about watching that word count line graph rise and rise the more you write. A physical, visual affirmation of the work you've done. (For me, a measurable distance for how much farther I have to go.)
There are some great programs out there that measure your progress toward your goal against a deadline of your choice. Give these a try!
MyWriteClub
Pacemaker
Writeometer
WriteTrack
#4 "It'll be easier to write if I don't have to think of the quality, just the quantity."
But you will. While NaNo gets it right in encouraging writers to get those creative juices flowing through actual writing, it's entirely possible to do too much. The more crap you sling at the wall, the louder that voice in the back of your mind will whisper this sucks. It doesn't take long to succumb to the understanding that not only have you written total garbage in pursuit of that word count, you're also not going to want to look at that mess long enough to edit and revise it in the future. It's going straight into the trashcan.
This is because there comes a point where you pass productivity and cross over into word-garbage. Brent Weeks has been asked several times about how much he writes in a day. His answer (in a tweet somewhere that I can't find now) was 500-1,000 words, saying that if he tries to go too much over 1,000, he starts to outstrip his creativity.
I discovered the exact same problem myself earlier this year when I was shooting for 1,500 words a day on a novel. It hurt. It resulted in a serious writing slump that wouldn't have happened if I hadn't overtaxed my creative muscles.
So avoid this problem by not setting such a high 1,666 daily word goal for yourself. Something reasonable, like 300-500, is a great way to start. Then, when you reach that mark, maybe you'll feel like you want to keep going, more and more, until you hit your limit. You'll know it when you do. At that point, all you have to do is stop…
…and start again tomorrow.